How to choose the proper LED wall pack light?
Views:0 Author:Site Editor Publish Time: 2021-02-18 Origin:Site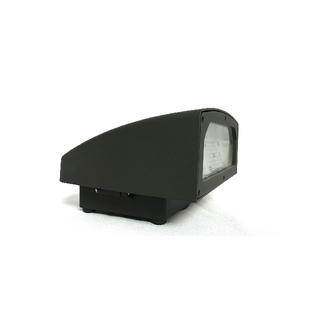 Wall packs and wall lamps are outdoor lighting equipment. They are installed flush on the outer wall to evenly illuminate the architectural features, increase pedestrian visibility, and help stop crime. Some wall-mounted lights have photocells or motion sensors that will automatically turn on the light at night or when motion is detected. Full-size and compact wall-mounted bags direct light outward and downward. The anti-glare device can only direct the light downward to minimize light pollution and reduce glare. Decorative wall lamps have an eye-catching appearance and provide accent lighting for apartments, apartments and hotels. Compared with other types of lamps (such as incandescent lamps, high-pressure sodium lamps or metal halides), LED wall pack lights have a longer service life and lower energy consumption.

This passage is going to talk about how to choose the proper LED wall pack light.
This passage contains the following:
Before choosing

Choosing lighting style

Wall pack sensor
(1) Before choosing
It's important to know your line voltage before choosing your LED wall pack light. The LED wall pack light can often support various voltages. The range of photoelectric sensors is narrow, so it is important to understand the applied line voltage before purchasing and installing. Although some photoelectric sensors are rated at 120-277 volts or 200-240 volts, many photoelectric sensors are only suitable for 120-volt applications. If the line voltage is lower than the wall pack sensor, installing a light sensor that does not match the line voltage supplying the controller may cause the light to stay on. If the line voltage is higher than the sensor's rating, the indicator light may not illuminate. A light sensor wall pack using the wrong line voltage may also burn the sensor and cause electrical problems.
(2) Choosing lighting style
The lighting you use around the house plays a vital role in shaping the aesthetics of the house's appearance. The reduced pattern can make lighting search easier. Here are some tips to help you find the ideal wall lamp style for your home.
Consider the exterior wall of your house and note any unique qualities. Does your house have many crooked accents? Maybe your house is more modern and has clean geometric lines. When looking for outdoor lighting, consider the architectural characteristics of your house.
Match your new outdoor lighting fixture to the existing fixtures in your home. For example, if you have brass door handles and door knockers, adding lamps with similar brass finishes can give your house a cohesive, well-designed appearance.
Look for outdoor lighting that matches the decoration of your home. If you have dark decorations on a white house, even if it doesn't match all other lamps, you can mix it with dark lighting fixtures. Coordinating lighting and decoration can usually make your home visually balanced.
Pair the lights with outdoor furniture and accessories. If you want to buy a LED wall pack light to illuminate these areas, you can match it with your metal dining table or use it with pool furniture.
When buying a new LED wall pack light, narrowing down the style selection is a good start. There are different sizes and styles. Change your LED wall pack light into a small LED wall pack light is also a good choice.
(3) Wall pack sensor
LED wall packaging requires LED wall pack sensors. If you want to transform or replace the traditional wall packaging box with an LED wall packaging box, you also need to replace the photoelectric sensor. The installation type of each sensor is divided into conventional sensors or LED wall pack sensors, so you know that you have chosen the correct type. When installed for the first time, the conventional light sensor will still operate the LED wall-mounted components, but will burn out prematurely. This is likely to keep the wall pack open during the day until the sensor is replaced.
We hope this article has helped you understand more about our LED wall pack light and the advantages of it.
Our product all passed the ETL test, which are all good ETL wall pack light. You can choose any sizes you want, we have small wall pack light and other sizes, suitable for every one of you. If you need to switch to LED wall pack light or need to fix a LED wall pack sensor please contact us.