How to choose the light color for the ETL canopy light
Views:0 Author:Site Editor Publish Time: 2021-02-16 Origin:Site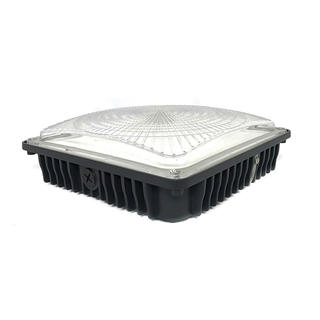 Here you can find a variety of best LED canopy lighting solutions for your business. Our LED canopy lights are no exception. They have a long service life and guarantee the service life of the LED, which makes it a 100% reliable product. In addition, they have different sizes, colors, designs, power and LED color temperature. Let's take a look at how to choose the light color for LED ceiling lights.

This passage is going to talk about the followings of LED canopy lights:
Light's color temperature

What is light inspection and when is it needed

Which Kelvin color of the ETL canopy lights should I choose?
(1) Light's color temperature
One thing we always recommend to our clients is to choose lighting based on the atmosphere they want to establish in their space. The LED ceiling light has two LED colors. The first option is the "cool white" LED color, which is perfect for vibrant lighting designs. The second is daylight white LED color, which is ideal for white bright natural lighting design.
(2) What is light inspection and when is it needed?
Interpretation of photometric studies: photometry plays an important role in large or commercial spaces that require large amounts of lighting. It allows architects and lighting designers to know if the light is enough to hold the space. The brightness, the intensity, can be confirmed. It also enables you to understand costs and plan electrical requirements.
Photometric optics is the study of light itself, not just a kind of illumination. Photometry, photometric analysis and photometric research are just different names for the same thing. It focuses on how light leaves the luminaire and into the area around it. It's a computer simulation of light. This is a very important knowledge for people engaged in lighting and lighting design work.
(3) Which Kelvin color of the ETL canopy lights should I choose?
Color temperature mainly depends on preference. Usually, most warehouse lighting outdoor lighting is 5000K, which is usually called bright white because it is the close sunlight. The lighting that we often see in residential use is relatively loose setting, usually 3000k-4000k. Business office lighting is usually about 4000K. Retail lighting is typically 4000k-5700k, and is more common on the colder side, because at the same wattage, the cooler color temperature usually has a slight advantage over the warm color temperature in terms of lumen output. For retail, bright is a good way to show what's on sale. Again, these are just common uses. Some people do like to install 5700k at home, while others may prefer 3000K led wall mounting on the side of the building. One of the things we're going to mention is that the American Medical Association recommends keeping away from light above 5700k, because it may be detrimental to the body's circadian rhythm and affect sleep patterns. Research in this field is still ongoing, and there is a lot of conflicting information. Some people claim to have a headache because of low color temperature, while others have headache due to high color temperature. Everyone is different, so it really depends on personal preferences.
You can get some samples. Then you can plug it in and observe its operation. If you decide to change the color, you can buy it after you find the color you are satisfied with.
We hope this article has helped you understand more about LED canopy lights and how to choose the color. Our product all passed the ETL test, which are all good ETL canopy light. You can choose any types you want, we have 45w/70w canopy lights and other sizes, suitable for every one of you. If you are interested in any LED canopy lights, please contact us.