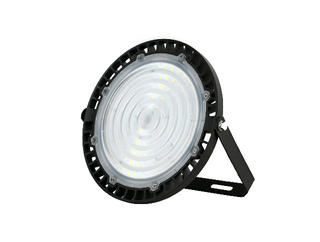 The high bay light can be round, now commonly called UFO high bay light, or it can be rectangular in shape, usually called linear high bay light. Modern LED technology allows a large amount of light to be contained in a small lamp, so it consumes less light and is easier to install, or you prefer the appearance.

High bay lights can be round, linear, elongated or elongated. We will discuss each object, their appearance, their advantages and disadvantages, and when to use them!
Choosing high bay lights for your commercial space is a crucial decision. The lighting in your space sets the tone for your customers and/or employees. The energy consumption of LED bracket lights is reduced by 75%, which is your best choice. Nevertheless, you still need to choose between many different shapes and sizes of high bay lights. How do you know which shape or size is best for your space? Keep reading to find out which high bay light option best suits your needs.
This passage is going to talk about the followings of high bay light:
(1) What are the different types of LED high bay lights?
The round high bay light is called UFO high bay light because of its dish shape. They are the easiest high bay lights to install because they only need to be suspended at one point. Round high bay lights are very suitable for places with high ceilings. UFO high bay lights emit an average of 120 degrees of light, which is very suitable for heights above 13 feet.
The lighting of the round lamp is very suitable for the lighting table in the restaurant environment. For this 13-foot-tall restaurant, you might use 100-watt LED high bay lights and 3000K warm lights. Circular UFO lights can still be used in large open commercial spaces. For a 25-foot open LED high bay light, 240 watts of power and 5000K power will be beautifully illuminated for the building.
The more important thing to look for in high bay lights is lumen. You can have higher power, but if the lumens are turned off, you may not get the best lighting. The choices are 100 watts, 150 watts, 240 watts and 300 watts. Remember, the application of LED high bay lights depends on the space you want to illuminate. If the round light doesn't work well, then you won't have no choice.
Linear high bay lights may make you more familiar. They are the lights you see in almost every grocery store and warehouse you visit. Their design looks like T8 bulbs, but they have nothing in common.
Linear lights are very suitable for large buildings because they can illuminate more space at a time. Linear lights can be very long and wide, or very long and narrow. If your space has a lot of aisles or shelving, it is best to use long linear lights. You can install lights on each aisle to illuminate all your products.
When choosing a light, it's important to remember your purpose. If you are a retail store that sells to customers, then the lighting in the store can affect customers' buying habits. For large commercial buildings, 200w LED high bay lights will make all your products well illuminated. If you have a small space or need softer lighting, 100w LED high bay lights can solve the problem.
(2) Attentions
The unique physical characteristics and operating conditions of industrial, commercial and sports facilities distinguish high bay lights from other types of indoor lighting. The design and specification decisions of overhead lighting involve many issues.
In high-bay applications, energy efficiency is particularly important because a large number of lamps are required to cover a wide space, and a relatively high wattage is usually required to provide sufficient illumination from a high installation height. As energy costs rise, inefficient facilities will be at a competitive disadvantage when lighting becomes a resource depletion and cannot comply with changing energy regulations.
By using high bay lights with lighting control devices, energy can still be saved to the greatest extent. The ability of light sources to interact with lighting controls and energy management systems has attracted increasing attention. The light source must have instant on/off and dimming functions so that digital or analog control signals can be used to gradually control its light output in a very dynamic manner. As the Industrial Internet of Things ushered in a new era of lighting automation, controllability should be regarded as one of the key functions of the lighting system.
It is worth noting that high optical efficiency does not necessarily translate into effective use of light collected by the optical system. For example, the optical design of HID illuminators will result in a concentrated distribution of illuminance directly below the illuminator, and low illuminance and low density around high-intensity "hot spots". Uneven illuminance distribution may distort the visual perception of moving objects, which may be a risk factor or affect task performance. When multiple luminaires are installed to illuminate an area, poor uniformity can result in continuous eye adaptation between two distinct brightness levels that are physically adjacent to each other. The need to perform high-frequency visual adaptation between different visual states can cause eye fatigue.
The importance of longevity should go with energy efficiency and luminosity performance at the same time, because the maintenance and replacement costs associated with overhead lighting are very high. The reliability of the lamp will depend on all its components and their survivability under environmental and working pressure. Long-life light sources are essential to the long life of the lighting system. However, special attention should be paid to the design and engineering of the platform running the light source. High bay lights for industrial applications need to operate reliably in harsh environments where extreme temperatures, humidity, vibration, impact, dust, dirt and corrosive elements may exist.
(3) Safety certificate
For electrical products, the safety of product use is very important because it may cause fire or safety hazards. If UFO LED high bay lights have passed UL or ETL certification, then you can rest assured that ETL high bay lights have passed strict test conditions, so they can be used safely.
We hope this article has helped you understand more about LED high bay lights. If you are interested in any high bay lights, outdoor light ,solar light or our other products, please contact us.