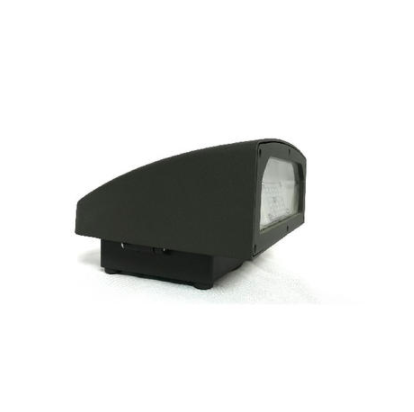 Have you ever thought that street lights seem to know exactly when to turn on? They are never too early or too late...They are as bright as the sun goes down and the sky darkens.
Of course, they are not operated manually. But to be sure, since they open and close at slightly different times every day, do they also not use timers?
The answer is the photocell, also known as the dusk to dawn sensor.
The founding principle behind the phototube has existed for more than a thousand years, so can it be used in modern LED wall pack lights?
Standard photocells require a small current to work during the day when the lights are off. Since LEDs operate at such low voltages, small currents can cause interference, flicker and premature degradation. Therefore, LEDs need different types of phototubes from traditional bulbs.
This passage is going to talk about the followings of LED wall pack lights:
(1) What is a photocell?
(2) Are LEDs compatible with wall pack sensors?
(3) How to choose photocells for outdoor LED wall pack lights
(1) What is a photocell?
Photocells, sensors from dusk to dawn, resistors related to light, no matter what you call them, they all have the same effect. The photocell is a photosensitive module that is used to determine the on/off status of the lighting according to the ambient light level. In short, they are light detectors that can automatically turn on the lights at dusk and turn off the lights at dawn. They are most commonly found in outdoor parking lots, roads and security lighting. They are a great way to reduce energy consumption because they are designed to turn off the lights during the day when artificial lighting is not required.
But how do they work?
There are many different photocells on the market, but they are all based on the same principle. Like LED wall pack lights, phototubes are made of semiconductors (mainly cadmium sulfide). They are designed to respond to visible light. When a semiconductor is exposed to a certain level of light, an electric current is generated and the fixture will shut down. But as the sun goes down and there is insufficient light, the current will stop and the lamps will turn on again.
(2) Are LEDs compatible with wall pack sensors?
Let us see some facts. When photovoltaic cells were first invented decades ago, they were specifically designed for tungsten filament (incandescent and halogen) and ballast (fluorescent and HID) bulbs.
It was not until LED became popular in the early 2000s that people realized that traditional photovoltaic cells were incompatible with energy-saving light bulbs.
Due to their working principle, photoelectric cells generate a small amount of current when the lights are turned off during the day.
Traditional light bulbs work under extremely high voltage, so this small current will not have any effect, and the light will remain off.
But the energy required for LEDs is much less, so this small current will cause interference and act as a capacitive load.
Ultimately, this leakage of the pass voltage will damage the electronics inside the LED. If paired with a traditional photocell, the LED may start to behave abnormally, flicker or go out, or burn out prematurely.
Fortunately, bulb manufacturers quickly caught up and designed a phototube system that can direct small currents to LEDs.
All in all, the old wall pack sensor may not be compatible with LEDs, but the new model will be more flexible.
(3) How to choose photocells for outdoor LED wall pack lights
I'm sure you will find that choosing LED-compatible photocells is not easy.
Not only can you go to your local hardware store to buy first-hand products, you also need to consider more products.
So, what do you need to look for?
First, you need to ensure that the sensor uses modern optoelectronic technology designed for LEDs. You can check by reading the product specification sheet of the sensor. Usually listed under the "rated load" section.
Another way to check is by counting the number of wires from the sensor. Devices that are compatible with LEDs have three wires instead of two. The extra wire is used to drive small currents away from the diode when it should be turned off during the day.
Third, you need to check whether the voltage of the photocell matches the installation voltage of the LED wall pack light. For example, Amazon's 120-volt photocell needs to be paired with a 120-volt LED bulb.
We hope this article has helped you understand more about LED wall pack light and the photocells for it.
Our product all passed the ETL test, which are all good ETL wall pack light. You can choose any sizes you want, we have small wall pack light and other sizes, suitable for every one of you. If you need to switch to LED wall pack light or need to fix a LED wall pack sensor, Downlights, Linear Lights please contact us.